East of the City
(Thriller/Financial)

---
Chapter 1 - sample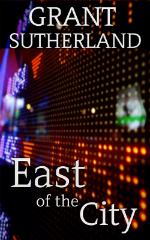 &nbsp
'You still want it?'
When I didn't answer her little joke, Ms Kerry Anne Lammar, the senior sales agent on the Cooper's Dock development, went on down the hall and turned right.
'I don't think you've seen the kitchen,' she said.
I let my fingers trail along the wall as I followed her. They'd painted the walls, and laid the carpet too, since the last time I'd been to see it. In the kitchen I found Kerry Anne striking a pose by the fridge. She was smiling.
'You like?' she asked me.
Every surface gleamed. The woodwork was mahogany, and the cupboards looked big enough to get lost in. There was a built-in cooker and microwave, and other gadgets I didn't even recognize. God knows what Mum would have made of it.
But when all I said was, 'It's okay,' Kerry Anne's smile just froze.
She turned away from me then, started opening and closing cupboard doors, telling me what was what. She wasn't exactly rude, but you could tell she wasn't happy either. Kerry Anne was in her mid-forties, and when I'd first rolled up in her office and asked for the penthouse details, she'd treated me like dirt. Since then I'd put down the hundred grand deposit, and now she didn't treat me like dirt any more, but she still thought of me that way. It was the trace of my old accent, I guess. And my age. She just couldn't accept that a thirty-three-year-old East End boy deserved forty thousand pounds' worth of kitchen inside a million pounds' worth of penthouse.
She was still explaining the fancy ventilation system as I wandered off to check out the other rooms. They'd all been carpeted too, and painted, and most of the light fittings were done. In one of the back bedrooms, I paused a moment and looked out of the window, between the buildings, to the flat where I lived. My kid sister Katy would still be in bed. I'd lived there nearly six years, and every morning of the past two I'd go out onto the balcony, drink my coffee, and watch the workmen scramble around the building site that had gradually turned into the flashest apartment block on the Thames.
And now I was standing in it. Cooper's Dock.
'Mr Collier?'
Kerry Anne, she just couldn't keep that pissed-off tone out of her voice. And she was searching for me in the wrong direction.
'Mr Collier, I wanted to show you . . . Mr Collier?' Her voice drifted away as she went on with the search.
I wandered through the second bathroom into another bedroom, then out into the lounge. Light. It came pouring in through the wall of glass that separated the lounge from the balcony. Sliding the door open, I stepped outside.
The morning breeze was cold coming up off the river. I did up my coat and rested my forearms on the railing. The view was a stunner. East to Docklands, West to the bridges, and the whole South Bank laid out in front. Six months earlier, when my parents died, I'd thought about reclaiming my deposit and letting the penthouse go. It was too late for that now. I was locked in under the terms of my contract. If I didn't produce the rest of the money by the following weekend, I'd forfeit five thousand quid of my deposit weekly. Five grand a week until they found another purchaser for the penthouse. Or until my hundred grand deposit, which I'd borrowed against my flat, was gone. Rocking forward on the balls of my feet now, I wondered how far out I'd land if I jumped.
There was a sound behind me. I turned to find Kerry Anne rapping her knuckles on the plate-glass. She pointed at her watch, and shouted, 'Another appointment,' the words barely reaching me outside. She disappeared, and I leant back against the railing and considered my uncompleted purchase.
The penthouse was huge, and now that it had been fitted out it really looked like a million quid, maybe more. Back when I'd paid the deposit, they hadn't even finished this floor. I only had the plans to go on, but I'd always hoped it might turn out to be something special. And that's what it was. The finished article was even better than I'd hoped.
Did I still want it? Yeah, I still wanted it. It was everything I wanted, the security and respectability, the whole bit.
All I had to do now was get my promotion at work confirmed. Once I'd done that I could sell my flat, then my bank manager would stump up the rest of the cash for the penthouse. But my promotion. There, if I could bear to look at it, was my problem. The promotion I'd been promised, the reason a normally cautious man like me had put a hundred grand on the line, just hadn't happened. Showed no sign of happening. A little fact I'd neglected to tell Ms Kerry Anne Lammar. `
Now I hurled a quid coin way out into the river, just for luck. When I got in to work, I was going to have to speak with my boss.
---
© Grant Sutherland
grantsutherland.net